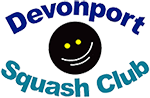 Email us
Join now!
Welcome to the Devonport Squash Club
What are we about?
We're about enjoying all aspects of this great game in a convivial and supportive environment and without spending a fortune. So, if you're looking to meet new people, or want to improve your fitness, or enjoy of competitive sport, then Devonport Squash Club is for you. We offer a fun way to enjoy this great game and make new friends along the way.
What Do We Do?
Pennant competitions
Devonport Squash Club plays pennant squash year round, with a few short breaks for school holidays and the festive season. On Tuesdays there is an in-house competition at 7:00 pm. This is a mixed event - male and female are graded together according to their skill and caters for players of all levels from beginners through to A grade. So everyone can play and no-one is "out of their depth".
Socialising
Aside from the Tuesday evening conviviality many players enjoy a social practice hit at the centre, at a cost of just $5.00, from 1:00pm to 5:00pm on Saturdays . This is a great opportunity for developing personal skills by hitting with higher ranked players and also sharing your skills by having a hit with the less experienced.
Coaching
Whether you want to learn the basics or hone your skills of this exciting game, coaching is available from one of our Squash Australia Accredited Coaches. Everyone is catered for: juniors and adults; beginners to advanced. Contact the Club for more information or to arrange a session.
We look forward to you joining us soon. → How about now?


Squash Court Access and Bookings
Office Hours

Monday to Friday 11am – 5pm
Saturdays, Sundays and Public Holidays closed
Bookings can also be made by visiting Council's website - http://www.devonport.tas.gov.au/recreation-centres
Dates to note